Event Plan:
The Croxley Great Barn Tour is here. A great local event that Meet and park at St Joan of Arc School car park at 10.45am for a 15 minute walk to the barn. The barn is Grade 2* listed, circa 1397. A 5-bay aisled threshing barn, over 100ftX40ft with crownpost roof. It has recently had renovation works carried out by SPAB – Society for the Protection of Ancient Buildings.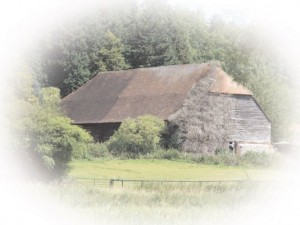 A brief history:
Croxley Great Barn, although just outside the Parish boundary, is a hidden medieval monastic barn situated in Croxleyhall Woods built with timber felled in around 1397 and probably built by Abbott John Moote of St Albans Abbey between 1397 and 1401.
With its weather boarded bays and aisles, peg hole tiled roof the barn exudes its place in history. It has sometimes been referred to as a tithe barn but these were used to store produce given to the parish priest by parishioners.
Our regular and knowledgeable building expert and Museum volunteers will be on hand to provide information and to answer any questions.
Contact Details:
Further enquiries should be directed to 01923 772325 or 01923 251905 or email Three Rivers Museum at enquiries@trmt.org.uk.