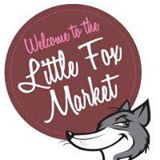 The Little Fox Market in Rickmansworth started with a few tables of products in December 2010 and has grown into a vibrant boutique market with over 30 stalls. Every month there are a variety of stalls with fantastic high quality products run by local people. A selection of jewellery and accessories, boutique clothing, cakes, homemade breads and chutney, shabby chic, antique finds, gifts, beauty products and home ware! Some stalls join in every month with favourite buys and new stock; some stalls will vary each month, so there is always something fresh to see.
The stallholders are a huge part of the warm and inviting feeling of the market and there is a real fun community vibe. The Little Fox Market's aim is to get as many local people involved as possible, whilst keeping high quality, uniqueness and fun the main focus. The market has always wanted the 'boutique' feel to stay strong and it only offers great stylish products.
In April this year The Little Fox Market moved to a new venue, St Mary's Church Centre in the heart of Rickmansworth. The move allows for inside space and outside stalls which means the market is in a great destination whatever the weather!
The upcoming dates are Sat 12th July, Sat 2nd Aug, Sat 4th Oct, Sat 1st Nov and Sat 6th Dec.
The market starts at 10.30am and finish at 3.30pm.
If you are interested in becoming a stall holder, please get in touch via: enquiry@littlefoxmarket.co.uk
Check out pictures from the previous Little Fox Market below: